The Pewaukee School District has been recognized eight times as a Top Workplace by the Milwaukee Journal Sentinel between 2011 and 2019. The Pewaukee School District is also a past recipient of the Wisconsin Forward and Malcolm Baldrige National Quality Awards for Excellence in recognition of the district's continuous improvement practices.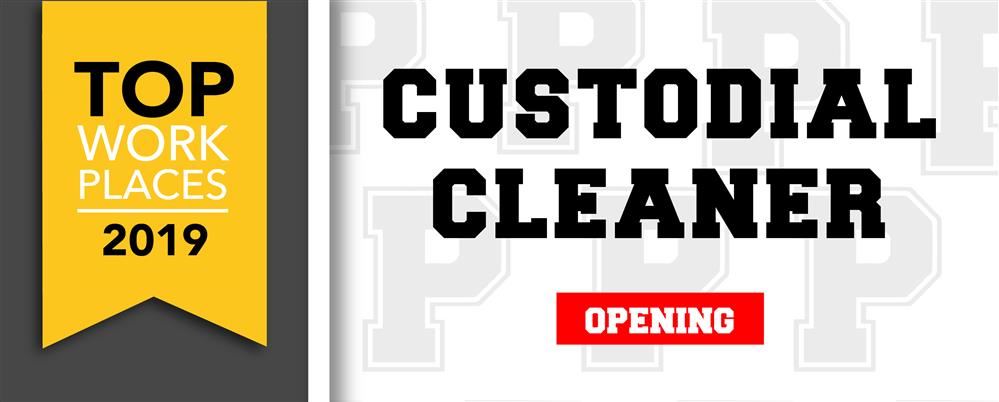 The Custodial Cleaner opening is WECAN Job # 53011. The Pewaukee School District is seeking a 10 month, part-time Custodial Cleaner. This is a part-time, 4 hours per day position - evening hours (scheduling is flexible), M-F.

General purpose of job is to maintain the school buildings and grounds in a condition of operating excellence so that full educational use of them may be made at all times.

Position Responsibilities

Responsibilities for this position may include, but are not limited to:

1. Clean all assigned areas using proper methods and equipment (see handbook procedures).

• Sweep/vacuum floors

• Empty wastebaskets

• Wash chalkboards and erasers and white boards

• Sanitize drinking fountains

• Wash windows and doors

• Align furniture

• Spot-clean walls

• Wash desks and furniture

• Complete dusting

• Close all windows

• Spot-damp-mop all floors

• Change light bulbs

• Clean and sanitize toilets and urinals

• Refill all paper towel dispensers and toilet paper dispensers

• Collect and remove garbage

• Strip, wax and buff floors

• Move furniture or athletic equipment and set-up bleachers or risers.

• Shovel snow

• Drive a personal or District vehicle to deliver or pick-up materials, etc. (A valid driver's license and successful driving record background check would be required in order to drive for school-related business. Employees who do not meet this requirement will not be asked to drive.)

2. Inform Head Custodian of equipment or facilities needing repair and/or replacement.

3. Secures all areas as needed for safety and security purposes.

4.Perform any other duties as assigned by the Head Custodian, Building Principal and/or Director of Buildings and Grounds.

Reasonable accommodation may be made to enable individuals with disabilities to perform the essential functions.

The position pays $14.00/hour and shifts are in the evenings (5 -9 with some flexibility).

NOTE: applications for available positions are only accepted via the WECAN site. Application materials will not be accepted via any other method - mail, email, fax, etc. We do not accept unsolicited resumes.